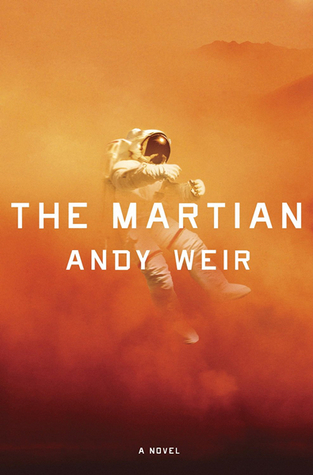 When The Martian was released earlier this year, it created quite a stir in the tech podcast world. Lots of podcasts have Audible (an audio book company) as a sponsor, and many of those which have an "Audible pick" during the sponsorship read recommended Andy Weir's first published novel at one point or another. I agree that it's a great read, and definitely recommend it, especially if you're into hard science fiction.
Since I borrowed the book from the library, I knew I had three weeks to read it (since there were other holds, I wouldn't be able to renew). At about 370 pages, I was pretty comfortable with being able to finish it, figuring about 20 pages a night before bed. No need to worry; it was a quick read, and I finished it in little over a week.
The premise of the book is very straightforward. There's no spoiler in saying that astronaut Mark Watney gets stranded on Mars; you find that out in the opening. He's part of a team on the planet, but a dust storm forces them to leave. Watney got left behind because of an accident which left him alive but without working communications; his teammates thought he was dead.
The book follows him through assessing himself for injuries and getting to shelter, taking inventory of what he needs to survive and whether it is sufficient to keep him alive long enough to be rescued (no surprise, it isn't), and finding out how he can extend his supplies and communicate with Earth.
Because of the small crew, each of the team by necessity was capable of fulfilling many roles (health, mechanical, etc.) but of all the people on the trip, Watney was the best equipped to survive life on Mars. Following his train of thought is part of the fun, but suffice it to say that he needs food, water, oxygen, and power, more than what he can scavenge.
We follow Watney's exploits through a series of journal entries. You can tell when he's optimistic that things are going well, as well as pessimistic when they aren't. Yes some things go wrong in small ways, some in near-catastrophic ways.
And that brings me to what I felt were some weaknesses in the book. Let's just say that Watney is a trans-planetary MacGyver crossed with a Murphy (from the law, since it gets to the point where there's a problem around almost every corner). He also seems mentally superhuman; it could be Mars mission candidates are thoroughly screened, but Watney is more relentlessly persistent than anyone I know.
That relentless persistence is what keeps the book moving, though. I really enjoyed geeking out on the science (botany, chemistry, mechanical engineering, structural engineering, and orbital mechanics to name a few of the areas, all plausibly presented), and there are quite a few references to pop culture of the 1970s and 1980s.
Even though the book roughly follows a linear timeline, there are flashbacks to fill in necessary history. Weir does make use of the device where information is withheld from the reader, then the appropriate piece of the past is shown to fill in the gaps. Fortunately, he doesn't do that for everything, especially for the events which happen on the planet. Also, Weir sometimes does the "Here's what I'll do…" without finishing the thought until much later; it's not used so often that tit's a problem, though. Thankfully, since we follow Watney's thinking throughout, it doesn't feel as if Weir relies on the deus ex machina.
After reading the book, I listened to The Incomparable episode 187 during which they discuss The Martian. The show is like a geek book club (but they also do movies, TV, and even games) and the book was a natural fit for the show. They also came away with positive feelings for the book.
Update: Ars Technica had a great interview with Andy Weir, and his transition into full-time writing. I like how he owns up to the fact that Watney was so good at everything and never gave up. He also discusses how the The Martian will be a movie directed by Ridley Scott.